COMPETITIVE RESULTS FOR TALENTED STUDENTS 2021: JOURNEY TO TOUCH THE TOP OF GLORY
Nguyen Hoang Education Group (NHG) announced the contest Miss University - Miss Talented Student NHG 2021 with the theme "Journey to the top of glory" on March 23, 2021. This is the second year the competition is held for university students in the NHG education system. The competition is meticulously, professionally and high-class staged to create a playground for students to experience and grow, towards becoming global citizens ready on the path of international integration.
Runner-up - Supermodel Vo Hoang Yen - Head of the Jury of the "check-in" photo contest with the contest organizers and Miss NHG 2019.
Miss University NHG 2021 is not simply a beauty contest but will be a very valuable experience for students. Through the training programs, the candidates learn and practice to focus on the 5 elements including "Mind - Body - Tri - Beauty - Humanity". This is also NHG's 5H educational philosophy: Heart (knowing to love/respect), Head (intellectual), Hand (knowing to work/dedicating), Health (health) and Human (full of people). enough dignity).
Assoc. Prof. Dr. Thai Ba Can - Deputy General Director of Nguyen Hoang Education Group speaks at the press conference
Ms. Tran Thuy Tram Quyen - Vice President of Hong Bang International University, Head of the Organizing Committee of the contest, said: "Miss University NHG 2021 will be a very valuable experience for students in all aspects. outstanding intelligence, soul, physical strength and skills to live happily, integrate internationally and become a responsible global citizen."
More than 3,000 candidates will register to attend from 5 schools: Hoa Sen University, Hong Bang International University, Ba Ria-Vung Tau University, Gia Dinh University, Eastern University of Technology; with more than 50,000 students participating in the vote. Broadcast episodes from the competition will also reach more than 20 million TV viewers and more than 30 million viewers on online channels during the competition stages.
Ms. Tran Thuy Tram Quyen - Vice Rector of Hong Bang International University - Head of Organizing Committee of NHG Talented Student Hoa Khoi Contest introduced the contest
Open the registration portal from March 23, 2021, and after 3 weeks of voting on website missuniversity.vn will announce the Top 200 on April 18. From the Top 200, contestants will move on to the Casting round to choose the Top 40 and participate in challenges in reality TV shows (from April 19 to June 6). The final night of crowning the highest title - Miss University NHG 2021 will be held on June 12, expected at Phu Tho Gymnasium in Ho Chi Minh City with 7,000 attendees.
Runner-up – Supermodel Vo Hoang Yen – Head of the Jury of the photo contest contest with students of Hong Bang International University
Miss University NHG 2021 will create an extremely interesting journey for both candidates and the audience and voting community. For candidates, the behavior test of Top 5 will be entirely in English and the questions will not be known in advance.
Runner-up – Supermodel Vo Hoang Yen
At the Chung House Round, candidates have the opportunity to experience a 2-week training period in the following areas: Building a brand by coach, famous businessman Truong Ly Hoang Phi; Creative execution with the participation of 5 talents who are alumni of schools in the NHG system; Building community projects guided by singer Thuy Tien; Fitness and catwalk by "catwalk queen" Vo Hoang Yen will directly participate in training.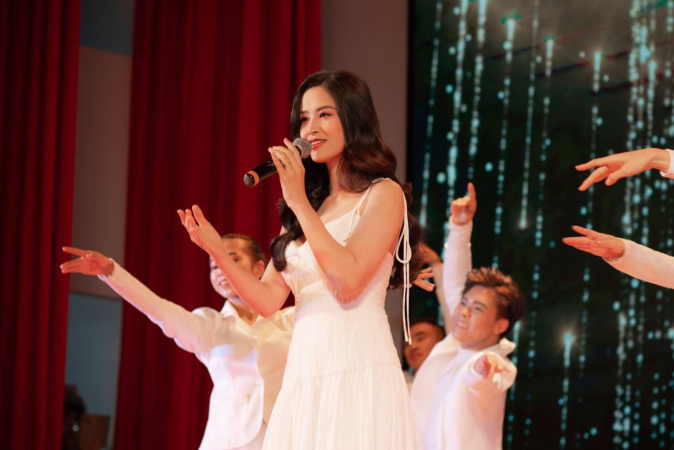 Singer Dong Nhi performed the song "Brilliant Youth Garden" composed by Composer Nguyen Van Chung for the contest.
Especially, the challenge round called "Start-up incubator" led by businessman Lam Minh Chanh - Director of BizUni School of Business Administration, founder of the management and startup community - is truly a "fairy garden". incubating the dream of young creative startups". This is considered the "sky" of creative, talented young people with intellectual business interests based on DIY - Do it yourself - Do it yourself to enjoy passion in a communication environment. keep learning and creating. The highest reward for the team that conquers this challenge is well deserved, which is DIYAS Sky apartment located at 16 Nguyen Duc Thuan, Tan Binh District, HCMC.
Candidates also experience the Trait-Map assessment of professional personality to help finalists understand their strengths and weaknesses. For the student audience, the Organizing Committee creates a playground of experiences that bring real value and usefulness through the project "Training students to improve photography, filming and editing skills" with consultation of famous experts with the most modern equipment and software of Sony Electronics Corporation (Japan).
The Board of Directors of the Group and the Organizing Committee of the contest performed the launching ceremony of Miss University NHG 2021.
BTC also collaborated with Gumac Fashion to carry out the Project "Charity Wardrobe: Fold and Give" right from the beginning of the contest and hope to end the campaign with 500,000 products. The purpose of the project is to educate young people to love and share with difficult circumstances, and at the same time contribute to protecting the environment against the current situation of fashion waste second only to plastic waste. .
Miss University NHG 2021 is organized with an award structure of up to 10 billion VND with a team of judges who are famous and prestigious names such as: supermodel-runner Vo Hoang Yen, Head of the Jury; People's Teacher - Prof. Dr. Dr. Hoang Tu Hung - Anthropometrics examiner; singer Bao Thy... Also featured are many other famous artists such as singer Dam Vinh Hung, singer Dong Nhi, runner-up Mau Thuy, Vietnam's Next Top Model 2015 Champion Huong Ly, actress Ninh Duong Lan Ngoc, actress Thanh Thuy, runner-up The Face Quynh Anh...
More information about the contest at website www.missuniversity.vn and fanpage
https://www.facebook.com/missuniversityvn.